The day is fast approaching when the payment your clients make for an e-bike, or any other good or service, could be deducted from their account and processed by your bank instantly. The person or entity they transact business with would receive immediate confirmation of the payment in the form of, say, a text message. In fact, that day has already arrived in many countries, including EU member states. As processing systems evolve and proliferate, instant payments (IPs) will make lightning-quick settlement of transactions possible worldwide, around the clock. Considered the closest equivalent to cash now available, IPs are changing the payment experience of clients and becoming fundamental to what they expect their financial services provider to deliver.
What instant payments are
Instant payments are electronic fund transfers done in the blink of an eye. They eliminate the physical exchange characteristic of cash and the payment delay that credit and debit cards introduced. They restore real time to transactions by replacing the recorded promise of plastic with immediate settlement. Payment is transformed into invisible digital pulses that move through central clearing systems to instantly debit a payer's account and credit the beneficiary's with the price of the purchase.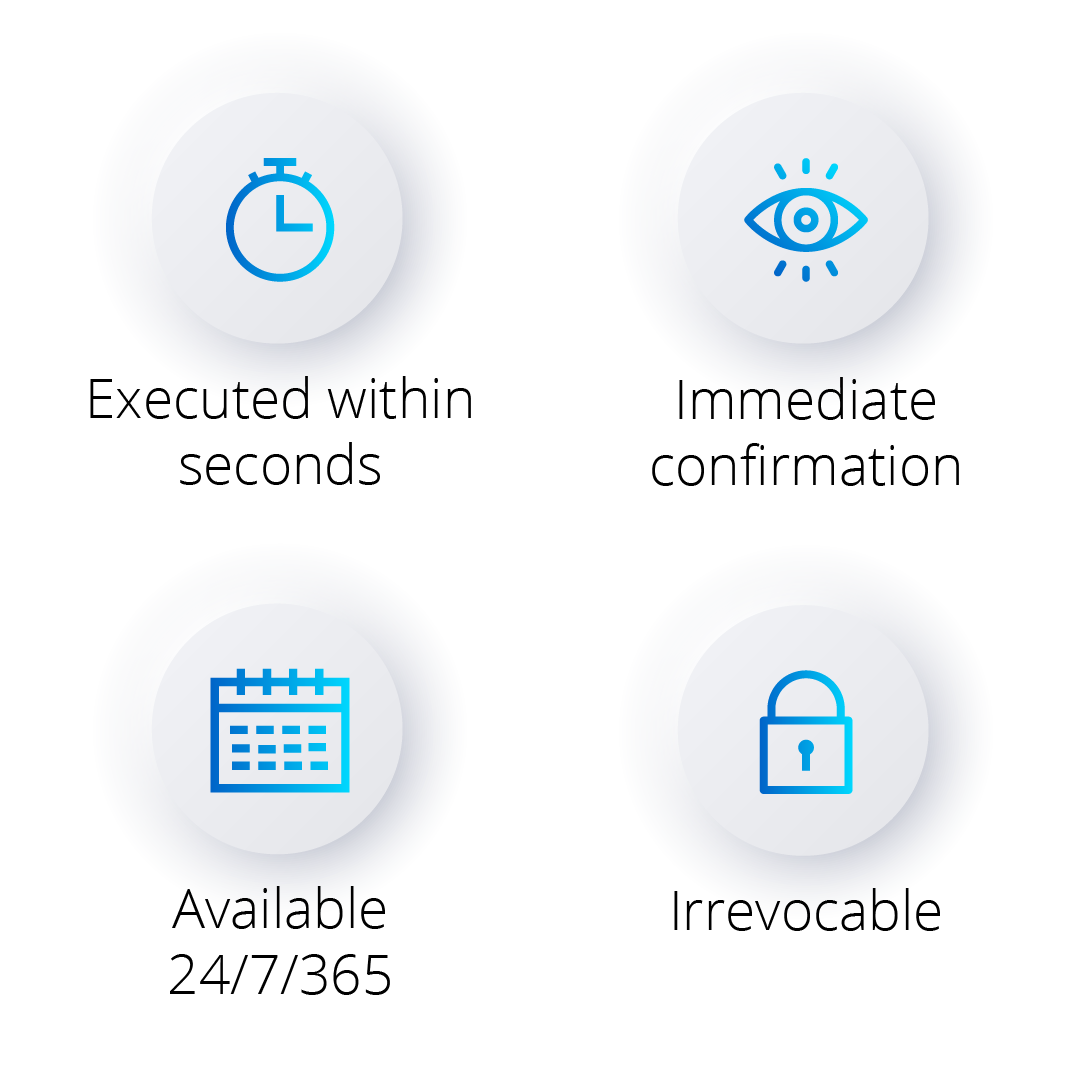 Why banks and wealth managers should care about IPs
Neobanks, online payment companies and internet tech giants are already busy creating a parallel universe for transactions via IPs, cryptocurrencies and other innovations. In it, round-the-clock access and immediate transfers of funds are typical. Established banks and clearing/settlement systems need to catch up and adapt to these advances to prevent further transaction volumes from wandering off into alternative financial models as fintech companies invent ever-new ways to move money. Clients have come to expect speed and convenience in banking, which IPs exemplify. Payments constitute one of the most frequent and important touch points within the bank-client relationship – for every wealth segment from retail on up to ultra-high net worth. The most common IP use case is for person-to-person (P2P) transactions. The popularity in Switzerland of Twint and of Venmo in the US illustrates this perfectly. IPs offer a new, user-friendly payment experience for consumers. Neobanks, for one, are scoring points with customers by offering them a better and cheaper way to pay, and established financial institutions would be wise to respond.
There are clear benefits for banks in reclaiming control over client payment data. It has wandered off to credit card providers and payment apps and continues to be slurped up by them. Bringing these transactions back to bank accounts can generate the kind of information that creates insights key to personalizing wealth management services and products. Regaining the ability to know how clients spend their money will enable banks to profit from advanced analytics technology. And P2P is not the only key use case. IPs are likely to reduce the costs and fees of existing payment channels for businesses while affording them greater ease and flexibility. Business-to-consumer (B2C) transactions – e.g., for insurance payments, rebates and refunds, and payroll solutions, especially for gig workers – are proliferating. Consumer-to-business (C2B) transactions, though less common, are also on the rise, as are business-to-business (B2B) payments.
What banks can look forward to with the Avaloq Payment Hub
The Avaloq Payment Hub is a cloud-based payment processing solution and connects a bank's core platform with IP clearing systems.
Compatibility with all core banking systems
No need for internal infrastructure: linking to the public cloud enables even peak transaction volumes to be covered while lowering the total cost of ownership via pay-per-use plan
Sensitive data is safely encrypted
IPs handled end to end, originator to beneficiary, with 24/7/365 CSM access guaranteed
Embargo/sanctions screening, fraud checks and anti-money laundering (AML) and counter-terrorism financing (CTF) reviews are all built in
Syncing with ancillary systems enables 24/7/365 IP processing even if the bank's system is offline
Have we piqued your interest on this topic? Why not explore it in greater detail? Download our whitepaper, "Instant Payments: Changing the Way We Pay" or get in contact to learn more on our Avaloq Payment Hub offering.