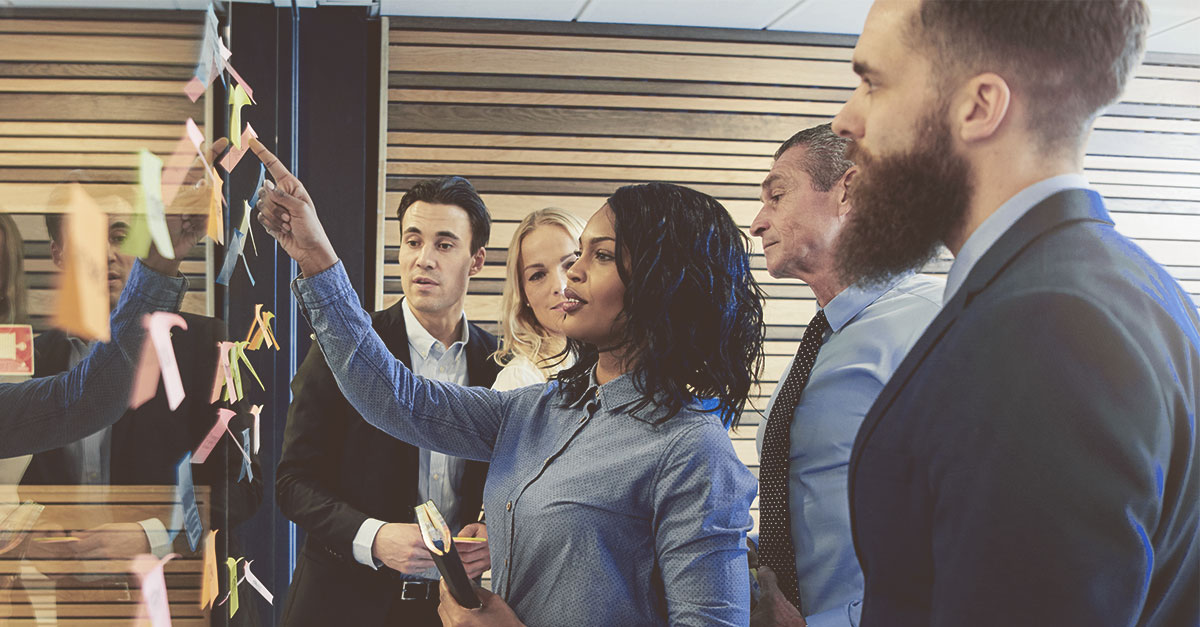 How design thinking can transform user experience in wealth management
Design thinking is, at its core, a process of empathizing with the user. The methodology has been successfully used in many industries to drive human-centred innovation, resulting in the creation of pioneering products like the first mouse for Apple.
In recent years, it has become increasingly popular in the financial industry as the likes of J.P. Morgan, Citibank, BBVA, Allianz and DBS Bank seek to enhance their client experience and stay relevant in a rapidly evolving market. In this article, we will explore how design thinking principles flow into Avaloq's product design processes.
Key benefits of design thinking for banks and wealth managers
User experience enhancement
Design thinking emphasizes the importance of user experience in product and service design. By deeply understanding users' needs and pain points, firms can develop innovative experiences that better meet users' expectations. A redesigned online investment platform boasting a simplified interface, streamlined navigation and personalized features can for example lead to better client engagement, increased adoption rates and higher client retention.
Innovation and differentiation
Design thinking encourages a culture of innovation by fostering creativity, encouraging diverse perspectives and promoting experimentation. It allows banks and wealth managers to differentiate themselves and stay ahead of the competition by developing unique value propositions and launching disruptive products, such as a digital offering tailored for a younger demographic, incorporating personalized experiences and social elements.
Process optimization
Banks and wealth managers operate in a complex and highly regulated environment and often deal with legacy systems and processes. Design thinking can help firms identify inefficiencies, find novel ways to reduce unnecessary complexities and streamline their operations. The resulting cost savings and efficiency gains can in turn be redirected towards better serving their clients.
Different studies show that the benefits of design thinking translate into quantifiable business value, too. The Design Value Index, a market capitalization-weighted index comprised of design-driven companies such as SAP and Nike, outperformed the Standard & Poor's 500 Index by 211% from 2004 to 2015.¹ Companies in the top quartile of the McKinsey Design Index meanwhile achieved 32 percentage points higher revenue growth and 56 percentage points higher growth of total returns to shareholders than their industry counterparts over a five-year period, according to a 2018 McKinsey & Company report.² And a Forrester study concluded that IBM's design thinking practice achieved a return on investment of 301%.³
Design thinking at Avaloq
User interaction and client co-creation form the backbone of Avaloq's product design strategy. The product design team champions a user-centred way of working based on the design thinking methodology and applies a six-step framework to identify pertinent user needs, gaps and new opportunities. This strategy empowers the team to co-create tailor-made, innovative and scalable solutions for Avaloq's clients and product users.
The six phases of design thinking
Avaloq illustration (source: IDEO U)
The key stages of Avaloq's framework are:
In collaboration with product teams and Avaloq's clients, the product design team facilitates a co-ideation workshop to understand the project focus, which user groups should be targeted and – where clients are involved – their vision and strategy. This sets the initial direction for the following steps.
Research is conducted to develop a strong data foundation to support the ideation phase. The product design team applies various research methods to identify user wants, needs and pain points, understand the current market offerings (when possible) and determine gaps and new opportunities.
In a co-creation session, product design and product teams as well as Avaloq's clients again come together to define key focus moments and generate ideas to address them. Here, a "moment" refers to an interaction with a product or service with the potential to create a memorable and impactful user experience.
Based on the ideas generated in the previous step, prototype requirements are defined, and designers set out to create an initial visual representation. Prototypes bring ideas to life and enable the crucial "test to learn" step of the design thinking process.
Here, the usability and desirability of the prototype are put to the test. Usability tests are conducted with relevant target users to identify design strengths and weaknesses and validate whether the prototype addresses user wants, needs and pain points and generates the desired outcomes.
Finally, the prototype and findings are presented to product teams and Avaloq's clients to align on and define next steps. These may include revisiting steps of the design thinking process, follow-up scoping, deciding on minimum viable product (MVP) requirements or pre-project planning for the new solution.
Case study: Defining a luxury experience in web banking
Private banking clients are used to luxurious experiences in their daily lives. However, web banking does not yet have a defined standard of luxury in the same way that other areas like retail, travel and fine dining do. To address this gap, the product design team was tasked with defining what a luxury web banking experience could look like for private banking clients.
Prototype of web banking application
In a series of seven design sprints, the product design team collaborated with the client to radically redesign the private banking experience, with each sprint exploring a specific topic of web banking. Each sprint followed Avaloq's six-step framework from "frame a question" to "share the story" and addressed different client topics and touchpoints, including wealth overviews, client life goals, Sustainable Development Goals (SDG) impact and client advice. All design decisions and interactions for the tool were based on the initial research on how to create a luxury experience. The resulting interactive prototype, which covered the entire lifecycle from onboarding to wealth transfer to the next generation, could then be tested directly with relationship managers.
Prototype of private web banking application
Design thinking as a key driver of client and user satisfaction
The adoption of design thinking offers significant benefits for product teams, banks and wealth managers. It can lead to more seamless interactions, greater trust and engagement, and ultimately higher client and user satisfaction. The importance of these factors cannot be underestimated in an era where incumbents, fintechs, neobanks and challenger banks are all vying for market share and clients are more willing and empowered to switch providers than ever before.
According to a recent survey conducted by Avaloq, 72% of affluent, high net worth and ultra-high net worth individuals have more trust in traditional firms than new players. In the same survey, 24% of respondents stated that they were thinking about switching their adviser, while another 28% had done so in the past five years. 29% of those surveyed also said that they would consider switching if an adviser were reluctant to modernize or adopt new technologies. So, while traditional banks and wealth managers continue to benefit from a loyalty bonus over their newer competitors, there is no room for complacency. At Avaloq, we integrate design thinking into our solutions so that banks and wealth managers can offer their clients the best user experience and respond rapidly to their changing needs.
---